JCI's Wide-Ranging Activities
JCI, as an organization that promotes concrete science and technology, conducts investigative research on a wide range of subjects including concrete materials and production, the design, construction, and management of concrete structures, and new concrete technologies, through the mutual understanding and cooperation of all its members, and works to widely disseminate findings.
1. Study, Research and Standardization Activities
JCI actively conducts studies and research on concrete every year. Study and research themes are annually solicited from members and selected through an impartial deliberation process by the JCI Research Committee. Research findings are either released in JCI journals or committee reports and/or announced at reporting sessions.
Furthermore, as a domestic organization deliberating proposals for ISO standards and as a JIS standard drafting organization, JCI prepares new and revised drafts of these standards and establishes also its own standards as JCI standards.
2. Academic Lectures, Symposiums, and Workshops
Since 1979, JCI has been holding an Annual Convention once a year (over three days), which is attended by concrete researchers and engineers from various fields, giving them the opportunity for lively exchanges of information through reports on research findings, question-and-answer sessions, and so on.
Symposiums and seminars on specific concrete-related research themes are held to coincide with the publication of Research Committee reports, offering a forum for research presentations and discussions for participants, regardless of whether they are JCI members.
Concrete technology seminars are held every year for the purpose of spreading concrete technology, teaching new techniques, and fostering human resources.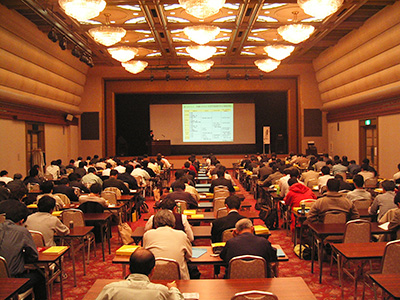 3. Publication of Journals and Proceedings
JCI publishes monthly Concrete Journal and presents a multifaceted range of information including commentaries, technical reports, construction records, and international information on a regular basis. Our three annual special issues have been met with a favorable reception for their topical themes covering various perspectives. Concrete Research and Technology and ACT (Journal of Advanced Concrete Technology) are posted on the website of "Japan Science and Technology Information Aggregator, Electronic" (J-STAGE) at the same time that they are published for uncharged access.
4. Publications
The Japan Concrete Institute have published Recommendations such as "Practical Guideline for Investigation, Repair and Strengthening of Cracked Concrete Structures", "Guidelines for Control of Cracking of Mass Concrete" and "Guidelines for Assessment of Existing Concrete Structures, and books like "Fundamentals of Concrete Technology" and "Concrete Diagnosis and Maintenance Technology", based on the results of the activities of its various kinds of committees.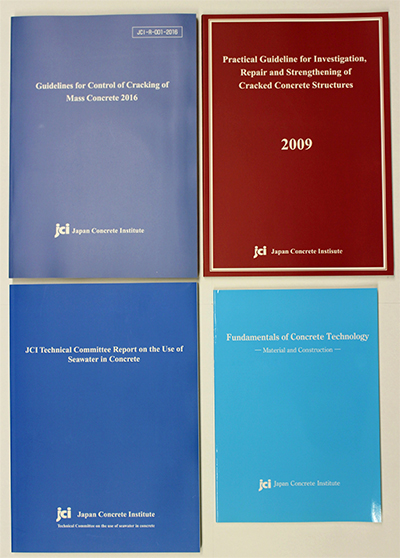 5. Awards and Grants
JCI awards include the Honorary Membership Award, Lifetime Membership Award, JCI Fellow, the Japan Concrete Institute Awards (Meritorious Deed Award, Best Paper Award, Technology Award, Encouragement Award, and Outstanding Structure Award), as well as other awards bestowed under the independent award schemes of JCI chapters. The conferment ceremony for the Honorary Membership Award and the Japan Concrete Institute Awards is held every year following the ordinary general meeting of JCI, and the conferment ceremonies for the JCI chapter awards are held separately by each chapter. Further, the Annual Paper Encouragement Award is presented to outstanding young speakers by the Annual Convention Planning Committee at the closing ceremony of the JCI Annual Convention.
Additionally, as a grant project, we provide support for the conduct of excellent research on concrete engineering and subsidize the cost of participation in international conferences for the purpose of presenting papers.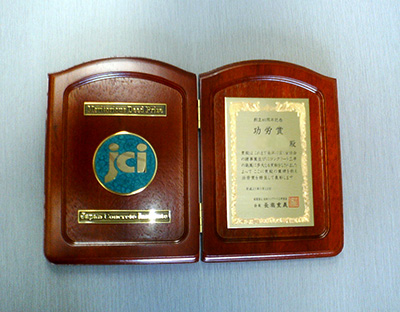 6. Authorized Concrete Engineer and Authorized Chief Concrete Engineer Certification System
For the purpose of raising the technical skills and ability of concrete engineers, JCI has been administering Authorized Concrete Engineer qualification examinations since FY1970 and Authorized Chief Concrete Engineer qualification tests since FY1971, certifying thus far approximately 60,600 people. The majority of the authorized concrete engineers and authorized chief concrete engineers certified by JCI are working in various positions in ready-mixed concrete production, product quality control, and construction across Japan, and have earned a high level of trust as engineers with concrete expertise gained over many years—expertise that has found its way into numerous technical standards and construction specifications.
7. Authorized Concrete Diagnosis & Maintenance Engineer Certification System
As the importance of adequately protecting and maintaining the enormous stock of concrete structures built so far is increasing, JCI has been promoting the systematization of engineering knowledge such as the diagnosis, maintenance, and repair of existing concrete structures, and along with the publication of Concrete Diagnosis and Maintenance Technology, a textbook for authorized concrete diagnosis & maintenance engineer workshops, JCI has been holding Concrete Diagnosis & Maintenance workshops and Authorized Concrete Diagnosis & Maintenance Engineer qualification examinations every year since FY2001, certifying approximately 14,600 people thus far. Based on these achievements, the Authorized Concrete Diagnosis & Maintenance Engineer qualification has been registered by the Ministry of Land, Infrastructure, Transport and Tourism among "Engineer qualifications that contribute to quality assurance of public works related surveys, designs, etc." From FY2020, concrete diagnosis & maintenance workshops have changed from in-person workshops to e-learning workshops.
8. International Cooperation and Exchange
JCI has established collaborative relationships with concrete-related organizations throughout the world.
1. ACI (American Concrete Institute)
JCI having been originally established with the Japanese chapter of ACI, it continues to have to this day a particularly friendly relationship with ACI, and concluded an international partnership with ACI in 2004.
2. RILEM (International Union of Laboratories and Experts in Construction Materials, Systems, and Structures)
JCI joined RILEM as an organization in 1982. JCI signed an international partnership
agreement with RILEM in 2007.
3. ISO/TC71 (International Standards Organization/Technical Committee 71 (Concrete, Reinforced Concrete and Prestressed Concrete))
JCI is the deliberative organization for TC71. (1988: O member, 1994: P member)
4. KCI (Korea Concrete Institute)
JCI concluded an exchange agreement with KCI in 1993.
5. fib (International Federation for Structural Concrete)
In 1998, JCI became a Delegation 4 Class fib member along with the Japan Prestressed Concrete Engineering Association (presently, the Japan Prestressed Concrete Institute) as an organization representing Japan.
6. ACF (Asian Concrete Federation)
JCI actively supported the establishment of ACF and is serving as its first chair country.
7. IMCYC (Mexican Institute of Cement and Concrete)
JCI signed an international partnership agreement with IMCYC in 2005.
8. IBRACON (Brazilian Concrete Institute)
JCI signed an international partnership agreement with IBRACON in 2006.
9. TCA (Thailand Concrete Association)
JCI signed an International partnership agreement with TCA in 2016.
10. CIA (Concrete Institute of Australia)
JCI signed an International partnership agreement with CIA in 2016.
11. TCI (Taiwan Concrete Institute)
JCI signed an International partnership agreement with TCI in 2018.